Some spoilers at the end of this post
Superhero comics are the classic comic genre, and everyone knows the tropes. Strong Female Protagonist is a webcomic that examines these tropes and subverts them. It's inclusive and socially conscious. It also features two of my favorite LGBTQ characters in comics, Tara/Feral and Lisa/Paladin. SFP delves into questions of morality, the nature of justice, and the consequences of power.
The main character, Alison Green, is quite literally a strong female protagonist. She developed super strength at the age of 14, along with millions of other 14 year olds, and began fighting supervillains for the government under the name Mega Girl. Alison eventually quits and applies to college. The story follows her as she wrestles with how to best utilize the power she has been given for good. This is a common theme in SFP, which all of the characters grapple with, with very different outcomes.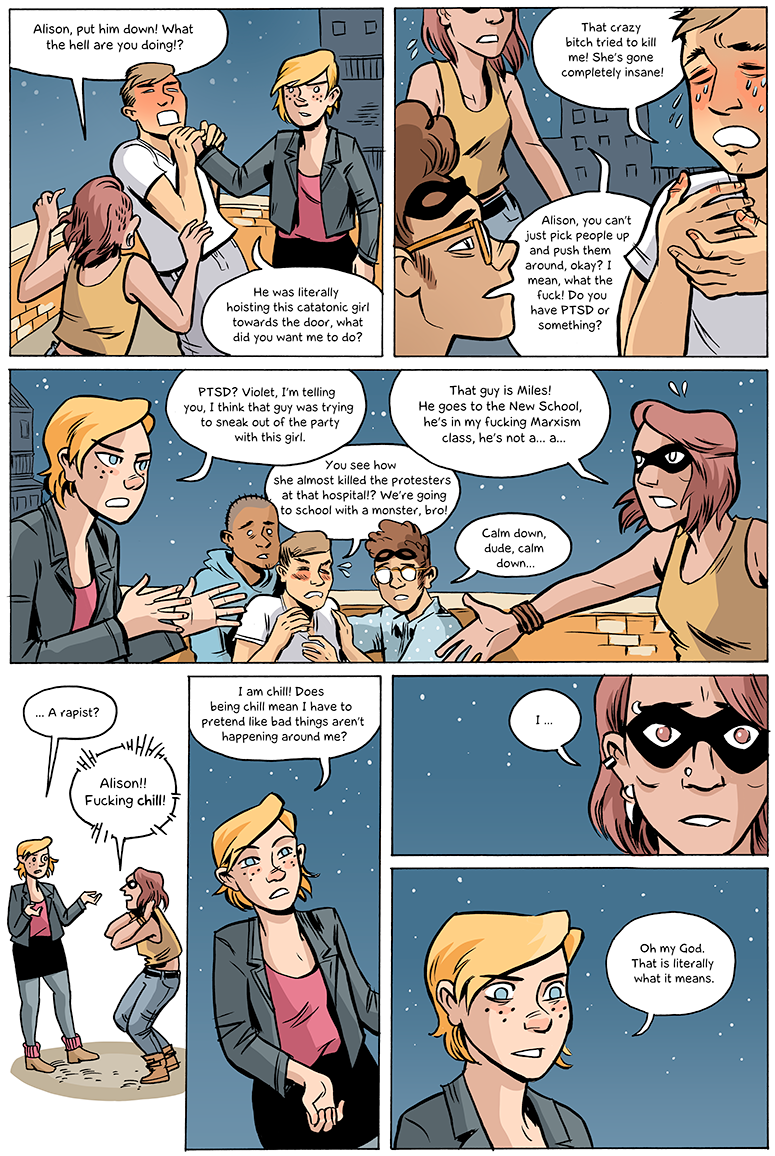 SFP Issue 5 Page 20
Tara, or Feral, has regenerative powers and can regrow her internal organs. After years of fighting crime, she decides that the most effective way for her to do good is to donate her organs—forever. She is operated on full time, around the clock, as she can regenerate organs in a period of several hours. This action is protested by groups that discriminate against "biodynamics", as those with powers are called, with one member even killing the first team of doctors set to operate on Feral. Mary Kim, or Moonshadow, was a member of Alison's team when she was fighting crime. Mary Kim has the ability to bend light and become effectively invisible, and she used this power to kill rapists. Hector (Pintsize) began studying physics and biology in order to use his power to shrink for scientific advancement. The decisions of the other characters and Alison's interactions with them help her get further in her quest to figure out her purpose.
SFP is a fascinating and modern look at the superhero genre, and I highly recommend it.